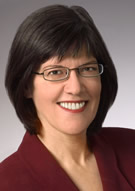 Drawing from her background in business, journalism, and the nonprofit sector, Janet helps audiences communicate clearly and persuasively and manage the demands of their busy lives. Participants praise her ability to deliver solid content with warmth and humor, encouraging high participation and retention of material.
Programs will be tailored to the needs of your organization and are available in both virtual and face-to-face formats—as two-hour, half-day or full-day workshops.

Key topics:
Effective Business Writing
Technical Writing
Presentation Skills
Mindful Time Management

Effective Business Writing
Good writing increases productivity, credibility, and collaboration, while unclear writing can cause confusion and delay. Get better outcomes from your emails, reports, and other business communication by saying what you mean clearly and concisely. Improve your productivity by giving readers the information they need, the way they need it—so the message gets through the first time.
Participants will learn to:
Plan and draft emails and documents with more focus and less stress.
Spot and eliminate unnecessary words and phrases, without sounding brusque.
Quickly identify and fix problems with tone.
Recognize and avoid common, credibility-damaging errors in grammar and punctuation.
Organize information for quick reader comprehension.
Choose the right structure to drive action and get buy-in.
Identify email protocols for teams.
Technical Writing
Technical writers have the challenge of making industrial, scientific, or engineering-related information clear to readers of varying levels of expertise. Whether you write instructions, specifications, manuals, reports, or proposals, you will learn processes for analyzing, writing, and editing that will improve the effectiveness of your technical communication.
Participants will learn to:
Plan, draft, and revise technical documents efficiently.
Determine level of detail and vocabulary appropriate to the reader.
Apply common frameworks for presenting technical information, such as chronology, definition, process description, and comparison.
Use clear and direct wording when writing about complex concepts.
Get out of the passive voice trap while maintaining an objective point of view.
Write abstracts and executive summaries.
Edit and proofread for correctness and clarity.
Presentation Skills
Presenting with authority and credibility is crucial to success in most professional roles. Whether an audience is made up of internal teams, executive decision makers, conference attendees, or other stakeholders, presenters must engage listeners and drive outcomes in an environment of distracted attention. In this class, you will learn how to create effective content and deliver it well, building confidence as well as skill in the verbal and nonverbal aspects of presenting.
Participants will learn to:
Analyze audiences in order to promote desired outcomes.
Follow a step-by-step process for creating and focusing presentation content.
Practice nonverbal elements of good presenting, including stance, eye contact, gestures, and vocal volume and variety.
Speak within time constraints.
Become familiar with a variety of techniques to keep audiences engaged.
Summarize information for executive audiences.
Handle question-and-answer sessions with authority and poise.
Manage anxiety during both preparation and delivery.
Mindful Time Management
Overload is a fact of professional life. Confronted with too many opportunities and demands, we react to the loudest stimulus, or keep doing what's comfortable, even if it isn't what matters most. One-size-fits-all time management "solutions" don't make sense in today's constantly shifting environment. Instead, this interactive workshop will help you to be more conscious about the decisions you are making moment to moment and incisively aware of default habits that are getting in your way. Discover how to be more deliberate about priority setting, scheduling, and responding to interruptions and unexpected events. Gain personalized tools for reducing overwhelm so that you make more powerful choices about how you use your time.
Participants will learn:
A quick way to recover composure in the midst of chaos.
Three questions that reduce overwhelm.
The power of single-tasking and how to get better at it.
Methods for observing and adjusting your behavior (that don't take a lot of time).
A tuning-in technique that gets you out of autopilot.
Two practical techniques for dealing with procrastination at the source.
Easy-to-implement structures that improve your focus
Strategies for incorporating self-care and avoiding burnout.
Save